Is The Skilled Labor Shortage
Impacting Your Ability To Meet Customer Expectations?
Let Us Help You Address The Skilled Labor Shortage By Enabling PreFab
On Your Project with Our Take Off as a Service (TOaaS) Offering.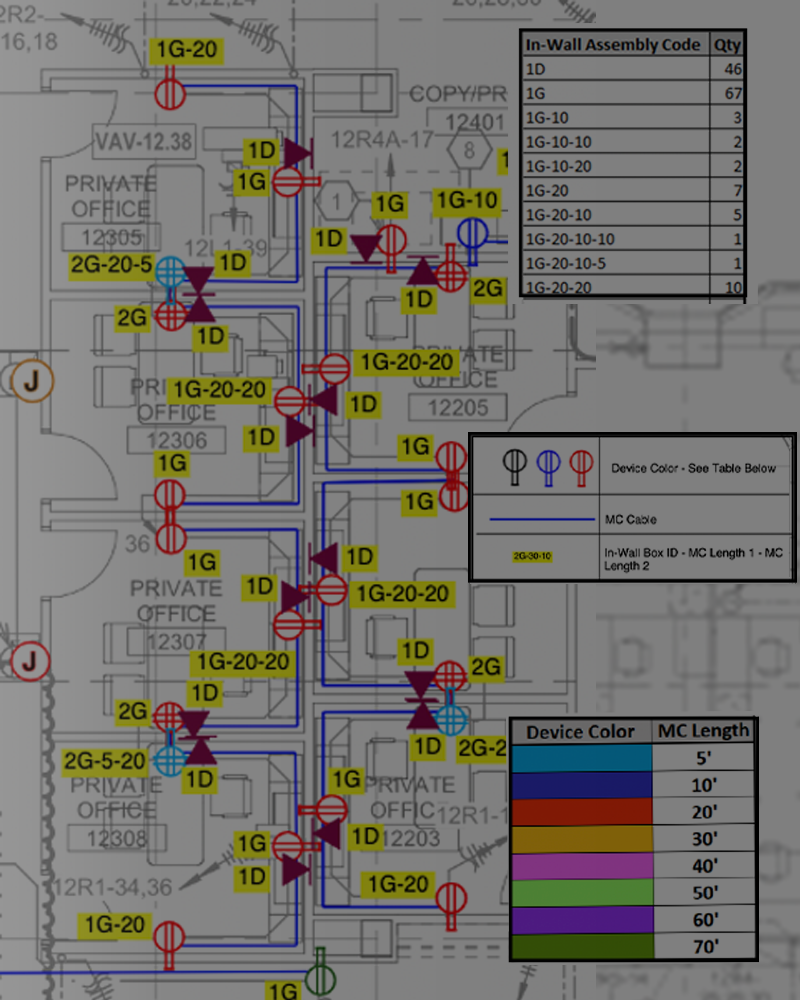 Our team can help you enable PreFab on your projects through our TOaaS Offering.
Our Take Off As A Service (TOaaS) offering combines your Take Off workflows with our prefabrication expertise and provider network, all enabled through the AECInspire automated BOM engine.
Our Services allow you to rapidly adopt prefabrication and reduce onsite skilled labor efforts by as much as 50%. This can help you deliver projects on time, therefore maintaining positive customer relationships resulting in repeat business and more profitable projects.
Create a comprehensive BOM on your Project within days

Enable Prefab on your Project in days or weeks, not months or years.

Our team adopts to

YOUR

workflows

Easy to read Install drawings included
Our TOaaS can help you enable Prefab on your project in 5 steps.
Planning

AECInspire team shares project checklist & a general estimate for the specific project.

The Contractor shares project documents and defines the project scope, including the Prefab strategy.

AECInspire team creates and submits a detailed proposal to the Contractor.

The Contractor reviews and approves the proposal.
Kickoff

TOaaS kickoff meeting is with the Contractor, Prefab, and AECInspire teams.

The primary goal is to understand the Contractor's layout, documentation, and process requirements for the defined project scope.

If the Prefab strategy includes the use of a Manufactured Assembly Provider (MAP), Introductions and recommendations will be part of the kickoff process.
Validation

AECInspire team will complete sample Take Off deliverables of key areas for review, modification requests, and sign-off by the Contractor and Prefab teams.

This step ensures that the deliverables meet the specific needs of each of the key consumers of the deliverables.
Take Off Completed

With the approved sample Take Off deliverables as a template, the AECInspire team will complete the Take Off and create the deliverables for all areas of the defined scope.
Review and Approve

The Contractor and Prefab teams review all deliverables and sign-off on TOaaS project completion.
OUR PORTFOLIO
Latest
Projects
OVERCOMING ROADBLOCKS
Questions and Answers about TOaaS
What is the AECInspire MAP Network?

The AECInspire Manufactured Assembly Provider (MAP) Network is comprised of manufacturers and contractors from around the nation. Members of the network have been building construction assemblies for their own use and gained the experience and efficiencies to be able to produce for others outside of their organization.
How do I trust that the manufactured assembly provider produces what I need?

Our MAP Network is a curated group of Construction Manufacturers that have years of producing assemblies. For each project, we look at the scope and content of the project and can partner your project with a provider that will best suit your project needs.
How can I implement Manufactured Assemblies so quickly?

Our Manufactured Assembly Provider (MAP) Network has been executing construction assemblies for years. Let our team guide you through a proven process and connect you with the correct provider.
What is the typical turnaround time?

Our TOaaS turnaround time is dependent on the size and complexity of the project. Most projects begin within a week of the final scope is decided. Our team can scale to match your project demands. Materials and progress can be viewed throughout the project as you can follow along with your own access to AECInspire
What do I, the contractor, need to provide?

Drawings, project details, scope, and a couple of hours with your preconstruction team are all we need to get started!!
How much time will your Preconstruction team need to spend during TOaaS process?

Like any service, our first project together will be learning for both sides. With our experience and drive to provide the best deliverables, we take the time to fully understand your company's methods and ensure what we provide is complimentary to your process. The more projects we do together, the smoother the process becomes.

We've wanted to implement prefab on our jobs but didn't have the time to figure it out. The AECInspire team brought us the expertise needed to get started, and we look forward to growing our prefab usage on future projects.
Kevin R
Project Manager, Kay Bee Electric

AECInspire's 2D Module enabled us to serve our customers more efficiently. It simplifies the workflow and generates a comprehensive BOM exactly as we want.
Alan Humbird
Quality and Service Solutions Manager, Graybar

I felt we were spending more time designing and preparing for fabrication than we were building it. AECInspire came along with a great solution for doing take off for us and provide us a Bill of Materials (BOM) for the assemblies. It really allows us to spend our time fabricating instead of doing the design for fabrication. So, it really subsidized us and allowed us to increase our customer support. We can take on more projects with their help.
Jeff Meurrens
President, Baxter-Kenworthy Electric and Fabrication

We're tasked with completing jobs on time but don't always have the manpower or time required. AECInspire helped us determine and build the correct assemblies for our project, making installation easier and faster.
Ben K
General Foreman, Kay Bee Electric

Our goal was to get rid of a lot of manual processes and automate them, especially Title 24. When we switched over from CAD to Revit, we knew that we can take advantage of having a design in Revit and be able to extract data from Revit and feed it into Title 24 forms. Sanveo and their team helped us to achieve our expectations to extract the data and bring in the AECInspire platform to utilize the data.
Ashkan Kermanian
Director, VDC, Sprig Electric